Nuestra embajadora de la música peruana en los Estados Unidos Lula Valdivia en concierto y acompañado de los músicos peruanos más destacados en el mundo en un espectáculo único e irrepetible. Valses, Afros, Marineras retumbarán en el Trumpets Jazz de Montclair en el mes de la Hispanidad. También tendremos a la bella y destacada campeona de la marinera Anahi Martínez quien llega desde El Peru y al campeón de la Marinera, en USA y España, Orlando Fidel Silva.
Músicos:
David Pinto (Bass) Grammy winner with Susana Baca
Juan Medrano Cotito (Cajón) Reconocido como el mejor cajón del mundo llamado también "La Voz del Cajón"
Yuri Juarez (Guitar) arranger and composer.
Hector Morales (Percussion) The author of the "The Afro-Peruvian Percussion Ensemble"
Enrico Granafei (Harmonica) Arranger, composer, harmonica virtuoso.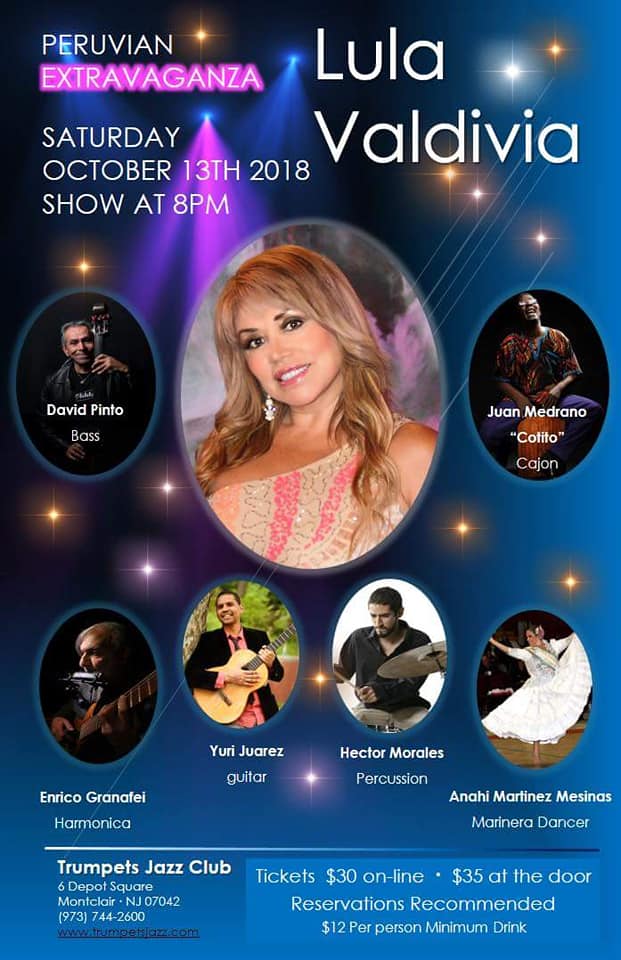 EXTRAVAGANZA PERUANA con LULA VALDIVIA
Comienza a las 8.00  pm
Costo : $ 30 por persona en línea
En puerta $ 35.oo 
$ 12 pp mínimo de comida / bebida